October 12th Community Garage Sale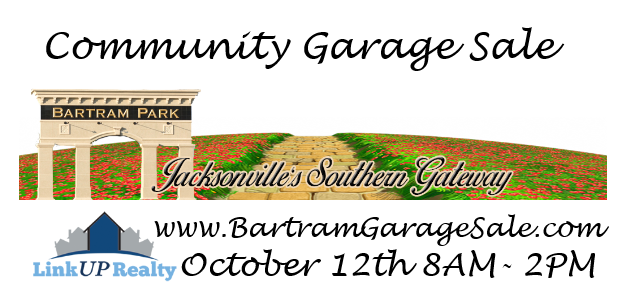 The Mike Linkenauger team and LinkUp Realty are excited to sponsor the Bartram Park Community Wide Garage Sale, the largest garage sale in Northeast Florida – Saturday October 12th  from 8AM to 2 PM. Hundreds of families and TEN neighborhoods will be participating. This time the hours are extended and there will be food trucks along the way! Gates open at 8:00 AM sharp

Visit the Facebook Page for the latest information about this event!
***VISITORS***
FREE FREE FREE!!! Make sure to stop by the entrance to Bartram Office Condos / LinkUp Realty at 13241 Bartram Park Blvd on the day of the event FIRST from 7:00-12:00 to get FREE breakfast sandwiches, donuts and coffee, TONS of gift card giveaways to local businesses, and also a map of participating neighborhoods, homes and food trucks! We will also be holding a MASSIVE bake sale to raise money to help impact the homeless population. Go to www.QuarterCrusade.com for more about our ministry. Remember, come to 13241 Bartram Park Blvd FIRST!

***PARTICIPATING RESIDENTS***
1.) We are asking ALL residents who would like to participate to PLEASE REGISTER BELOW to be added to the map which will be distributed to all attendees. ***Personal information will NOT be shared on the map, only your address!

2.) Yard signs and maps of participating homes and food trucks are available on a table outside LinkUp Realty at 13241 Bartram Park Blvd Thursday Oct 10th and Friday the 11th. Just stop by and help yourself! Please take some maps to distribute to visitors, ESPECIALLY if you are on the North or South end of Bartram Park Blvd.
3.) This garage sale is open for and approved for ALL neighborhoods inside Bartram Park, located along Bartram Park Blvd, with the exception of Twinleaf, as well as the apartment complexes! All gates to get inside should be open during the event.
PARTICIPATING RESIDENTS PLEASE FILL OUT THIS FORM