May 18th Community Garage Sale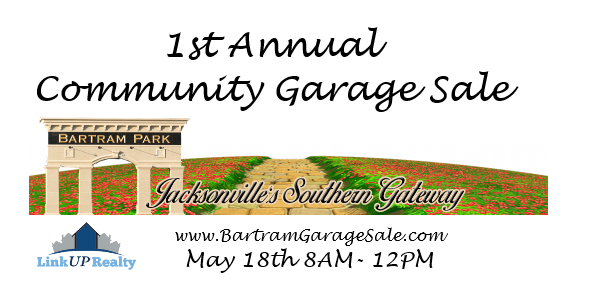 The Mike Linkenauger team and LinkUp Realty are excited to sponsor the very first Bartram Park community wide garage sale – Saturday May 18th  from 8AM to 12 PM. We have over 150 families / homes! The following subdivisions are participating – Bartram Park Preserve, Bayberry, Arrowood, Greenbrier, Hawthorn, Verano, Sumerlin, Emerald Preserve, Stonefield, Williams Walk (inside clubhouse) and Carlyle apartments.
Stop by the entrance to Bartram Office Condos at 13241 Bartram Park Blvd for FREE breakfast and coffee from 7:00-10:00 and also get a map of the area and list of many of the participating homes.

 Share the event page on Facebook and help get the word out. YOU can help make this more successful for everyone- www.facebook.com/events/2052444114833560/
Homeowners who are participating can stop by LinkUp Realty at 13241 Bartram Park Blvd Suite 2005 ANYTIME to pick up a yard sign and also some maps / flyers to distribute to visitors. These are available NOW. There is a table set up out front, please help yourself

***We are asking ALL residents who would like to participate to please register below to be added to the map which will be distributed to all attendees. ***Personal information will NOT be shared on the map, only your address!