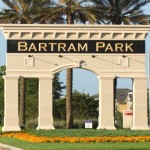 Welcome to Bartram Park in Jacksonville Florida!
***For Bartram Park real estate sales, contact (904)290-1176. For management and HOA info, CLICK HERE.
Welcome to BartramPark.com, operated by One Realty!
Bartram Park is one of the fastest growing areas in all of Northeast Florida and is referred to as "Jacksonville's Southern Gateway." The mixed use development of Bartram Park spans nearly 5,000 acres and upon completion will feature 9,700 residential units, nearly 2 million feet of commercial space, and over 300 hotels rooms. One of the largest new home communities in Jacksonville. Over 2,000 acres, nearly half of the acreage in Bartram Park, has been set aside for the Julington-Durbin Creek Preserve. The preserve is a fantastic place to experience natural Florida Flora and wildlife while hiking, biking, picnicking, horseback riding, or kayaking. Bartram Park was created around the idea of providing a community where residents are able to work, shop, dine and play-all with minimal commuting.
Bartram Park Townhomes, Houses & Condos
Bartram Park is one of the premier new home neighborhoods in Jacksonville, FL. Currently, Bartram Park is home to 14 residential communities featuring condominiums, townhomes, and single family homes. Builders for the area include Pulte Homes, Beazer Homes, Mattamy Homes, Standard Pacific, and Landon Homes. With a diverse selection of builders, subdivisions, floor plans, and home styles, Bartram Park  appeals to a wide range of potential homeowners. Every community in Bartram Park offers gated entrances and a great selection of amenities, including pools, clubhouses, fitness rooms, and more. We are your Bartram Park Realtors and offer free help to home buyers. Use us as your Realtors in Bartram Park and get a 2% cash back rebate on any new home purchase.  Search Homes For Sale in Bartram Park

Booming Growth
Bartram Park's booming growth has attracted a large number of commercial businesses and retailers. The Flager Center, located less than a mile from Bartram Park, is a 1,022-acre office park featuring 1.4 million square feet of Class-A office and industrial space. Home to Baptist Medical Center, Citicorp, and Florida State College of Jacksonville, The Flagler Center employs over 8,000 people. Other established businesses in Bartram Park include Publix Grocery Store, Kohls Department Store, Brooks Rehabilitation, many restaurants, banks, gas stations, and convenience stores. The area continues to grow and new amenities and businesses are added regularly.
Great Location
Located just west of Interstate 95, residents are easily able to travel to downtown Jacksonville, beaches, St. Augustine, or just about anywhere in Northeast Florida. Within minutes of Bartram Park are popular shopping areas such as the Avenues Mall and the St. Johns Town Center. Excellent entertainment options are close by as well and include Latitude 30 entertainment complex, Regal Theaters, and the World Golf Village.
Fantastic Bartram Park Schools
Southern Jacksonville is known for having excellent schools and Bartram Park community is no exception. Parents and students alike benefit from the top-ranked schools available to residents of Bartram Park. These top ranked schools include Bartram Springs Elementary, Twin Lakes Academy Middle School, and Atlantic Coast High school. Atlantic Coast High School opened in 2010 and is referred to as "The school of the future" for it's technological advances. The high school offers an IT academy which opens the door for students interested in digital media, and web design.
Featuring lovely residences, convenient shopping, superb location, and excellent amenities; there is no wonder why Bartram Park is one of the most desirable places to live in Northeast Florida.
---
Townhomes, Homes & Condos for sale in Bartram Park
Contact the Bartram Park Sales Office to schedule a private showing
or to ask any questions (904)290-1176