Bartram Park Community Newsletter – November 2018
Bartram Park 4th Annual Fall Festival & Car Show-  November 3rd 10AM – 3 PM! This is an annual community event to benefit Toys for Tots and they are adding Dreams Come True Foundation. They will have food trucks, vendors, a DJ, raffles, games for the kids, a car show with prizes and several other surprises. It will be fun for the whole family! There will also be a blood drive, all donors will receive a FREE OneBlood fleece blanket! And the best part is: they are helping 2 amazing charities! 
Mens Soccer Team Players Wanted!-  Do you love playing soccer? Looking for experienced soccer players to play on a men's adult league team. It will be 7v7 on Wednesday nights at Plantation park, Brackridge, and/or Davis park. It costs $85 for the season (guaranteed 8 games + playoffs). If interested please contact Brandon @ 9046715355 or email bsccer@hotmail.com
Walmart Opening – Walmart (located at the intersection of Racetrack Rd and Bartram Park) is said to open November 7th!
Coming Soon! Vystar Credit Union is coming to Bartram Park next to PDQ! WAWA, Wendy's and Dunkin Donuts are coming to the corner of Racetrack Rd and Bartram Park! Construction on the new large scale development, the Pavilion at Durbin Park is well underway. Opening in late 2018- Legacy Ale Works on Old St. Augustine Rd

Bartram Market-  The plans were just released for the new large strip mall on Bartram Park Blvd right at the corner of Racetrack called Bartram Market. Northern St. Johns and Southern Duval counties are in store for a 38-acre commercial development at northwest Race Track Road and Bartram Park Boulevard. Development shows a line of stores anchored by a 45,600-square-foot grocery store, rumored to be a publix and 33,000 square feet of shop space. Said to open mid 2019! Plans are also in place for an additional gas station at this location.

MANY New Shops & Restaurants Coming – There are MANY new shops that have been announced as coming to the area soon. Construction on the new large scale development, the Pavilion at Durbin Park, at the intersection of Racetrack Rd and Bartram Park Blvd is well underway. Anchor stores include – Walmart, Home Depot, Petco, Ross, Five Below, Dollar Tree, and a Basspro shop (2nd phase). Phase 2 is also slated to have a movie theater! Other stores here will include Sprint, Lee Nails, Tropical Smoothie Cafe, Kahzu Sushi Burrito, Five Guys Burgers and Fries, Firehouse Subs, AT&T, Starbucks, Korial Cleaners, Great Clips, Salsas Mexican, Keke's Cafe, Care Spot, Baptist Heath, Smoothie King, Mattress Firm, Gate Station, Chase Bank, Verizon and more. GO HERE TO VIEW A RUNNING LIST OF SHOPS COMING TO DURBIN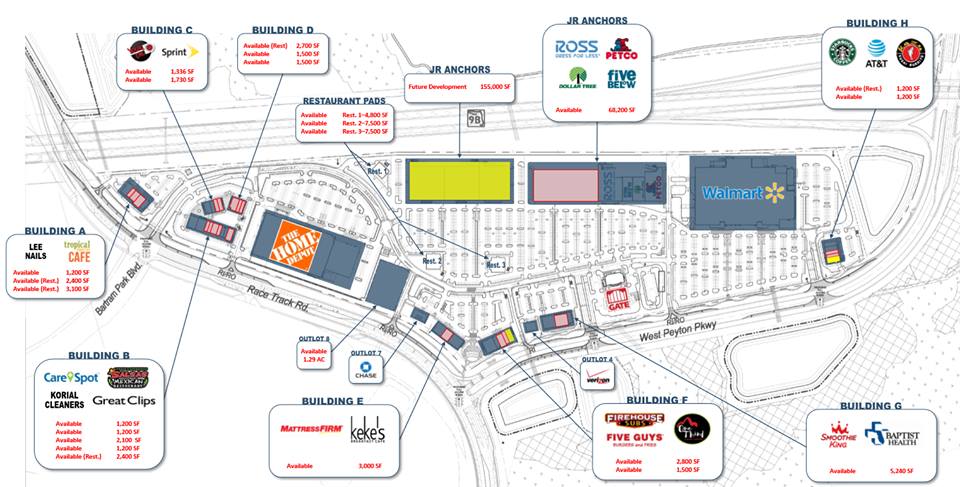 A few new things included in the area are:
A movie theater (Phase 2)

Three hotels (Phase 2)

Three featured anchors (Phase 2)

A ferris wheel and merry-go-round (Phase 2)

An "event lawn" with a video wall (Phase 2)
Other rumors mentioned:
Chick-fil-A

Pollo Tropical

Sam's Club (shown in earlier rendering)
Making waves in our Facebook Group – Much discussion has been taking place on the Bartram Park Community Facebook Discussion group. THANK YOU to our community for looking out for each other and informing your neighbors of news happening in our neighborhood. Let's keep it up! ***We are asking ALL residents to join our Facebook discussion group right away to keep up to date and be part of the community if you haven't done so already. https://www.facebook.com/groups/bartrampark
Record High Sales Prices – Prices are skyrocketing lately in the community! Curious about what others are selling for? We have just added recently "SOLD" listings to www.BartramPark.com. This new page can be found as a drop down tab under "homes for sale", or click here. If anyone is thinking about selling or buying in ANY subdivision in Bartram Park, please contact Mike Linkenauger at (904)635-8822 right away to take advantage of the market. We have many buyers, we need sellers. My fees are less than 90% of the agents / brokers out there, and my marketing is more aggressive than 90% of them as well. Contact me today if you are interested in buying or selling.
***Also don't forget that buyers who use LinkUp Realty save 1% on any new home purchased in Bartram Park or ANY new home community. Call (904)635-8822 to discuss this exclusive promotion. You will unfortunately pay too much for your property if you don't use this program