Bartram Park Community Newsletter – March 2019

Bartram Park's First Annual Community Garage Sale-  We are organizing a Bartram Park community wide garage sale Saturday May 18th from 8-12 and are encouraging ALL communities to participate. We will be spending a good bit of resources and time promoting the event and will also have live sign spinners at both ends of Bartram Park Blvd. Please discuss this with your individual associations and let me know if we can count your subdivision IN! Please email me at Mike@BartramPark.com OR visit www.BartramGarageSale.com with any questions or if you want to help plan the events!
New Panera Under Construction- New construction underway for a new Panera Bread in between PDQ and Wells Fargo off of Old St. Augustine Rd.
Duck Donuts Coming Soon- Coming soon next to the Publix on Old St. Augustine Rd. Duck Donuts is a boutique donut shop that makes everything to order, showcasing unique flavors.
Home Depot Now Open- Home Depot in Pavilion at Durbin Park is now open!
4th Annual Fun4FirstCoastKids.com Summer Camp Festival and Kids Expo- March 31, 2019 from 12:00pm – 3pm! The event is located at the Above Athletic Center on US1 just north of Racetrack Road in the Five Tool Training state of the art sports training facility! We will have vendors in the categories of summer camps, schools, health resources, and birthday party businesses that you can meet face to face and and enjoy activities at each table. Register for camp, enjoy giveaways, and enjoy this FREE family fun event!

$15,000 Bond Money For First Time Home Buyers- 'Florida's Hardest Hit Fund' is back! This is exciting news because first time buyers may be eligible for $15,000 towards buying their first home. If you or someone you know have been wanting to buy a home but lacked the money for a down payment and closing costs then you don't have to stress anymore because Florida's Hardest Hit Fund Down Payment Assistance Program will provide you with $15,000 towards the purchase of your home! Click here for more information on this program or contact Mike Linkenauger right away at (904) 635-8822 to get qualified. We only expect this program to be around for a few months.
Thinking About Buying Or Selling A Home? – Prices are still steadily increasing in the area. Curious about what others are selling for? Check out recently "SOLD" listings here. If anyone is thinking about selling or buying in ANY subdivision in Bartram Park, please contact Mike Linkenauger at (904)635-8822 right away to take advantage of the market and remember, by using LinkUp Realty you will save 2% on any new home purchase! Go here to see what we can do  to sell your property faster AND for top dollar.

Shops Now Open at The Pavilion at Durbin Park! – Construction is underway for Bartram Market and the Pavilion at Durbin Park! Some stores that are now open in the Pavilion at Durbin Park are Walmart, Mattress Firm, Chase Bank, Home Depot and the Gate Gas Station. 
Stores Opening Soon- Opening very soon in the Pavilion at Durbin Park are Tropical Smoothie Cafe, and Burlington Coat Factory. Other stores here will be Sprint, Lee Nails, Kahzu Sushi Burrito, Chick Fil A, Five Guys Burgers and Fries, Firehouse Subs, AT&T, Starbucks, Korial Cleaners, Great Clips, Salsas Mexican, Keke's Cafe, Care Spot, and Baptist Heath, Petco, Ross, Five Below, and a Dollar Tree.
Pavilion at Durbin Park Plan: (click to view larger image)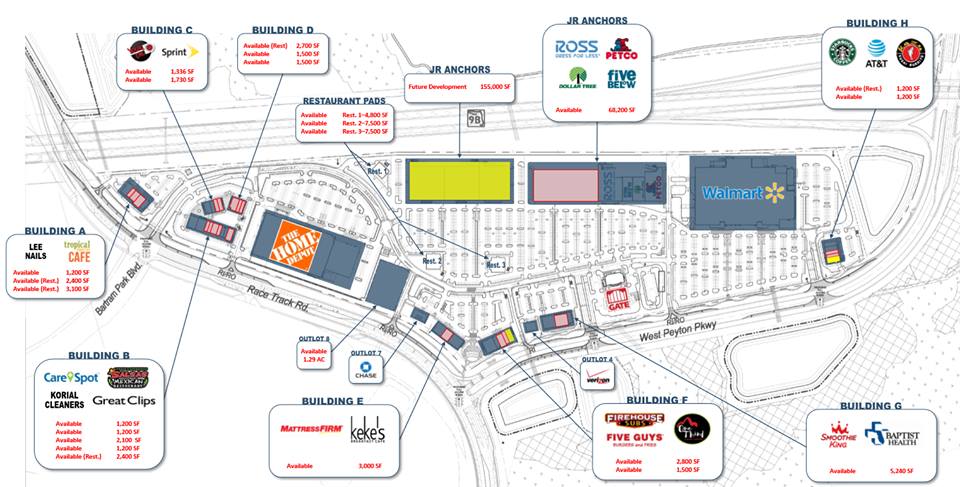 Phase 2- A second phase is coming which will include a BassPro shop, movie theater, three hotels, a Ferris Wheel and an 'event lawn' with a video wall. 
Stores Coming Soon to Bartram Market- Construction is underway for Bartram Market. Some stores coming are Publix, Dep Nail and Spa, L&L Cleaners, The UPS Store, China Wok, Fancy Sushi, and Forever Vets and Animal Hospital. A Wawa, Dunkin Donuts and Wendy's will be built as well. 
Bartram Market Plan: (click to view larger image)