Why do buyers overpay for new construction homes
Why do people insist on OVERPAYING when buying new construction?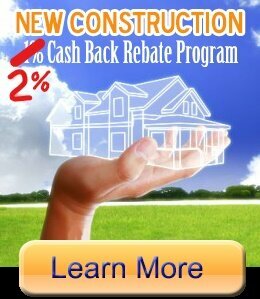 To be frank with you, I bang my head on the wall every day trying to figure this out. I guess, to be bluntly honest with you, the answer is simply ignorance. New construction home buyers just don't know any better. The bottom line is this – If ANYONE buys ANY home from ANY builder in the State of Florida and does NOT get a commission rebate from their agent, they pay too much. Now, if you have already purchased a new construction home, I know after reading this statement, you are now saying to yourself – "Not ME! I got a great deal", or if you think you don't need an agent when buying new construction, I will reiterate and now go back to my previous statement….If ANYONE buys ANY home from ANY builder in the State of Florida and does NOT get a commission rebate, they pay too much.
I know that this is a very bold statement to make,
so let me back it up by quickly dispelling a few common myths
when it comes to new home rebates.

I can get a better deal if I DON'T use an agent – This is just not true. It is unlawful and against the Fair Housing Act for a builder to reduce the sales price or incentivize a buyer to NOT use a real estate agent to represent them. If you don't believe me, just ask the builders own site agents if they can change the terms or give you a better deal if you don't use an agent! This is highly illegal, and quiet frankly the builders site agents WANT another agent to help you out in the process. It makes their job easier and it doesn't effect their pay in any way.
Commission Rebates are illegal – This is also just not true in almost all states in the US. Don't take my word for it,  just read this article on the Government website for Department of Justice giving PRAISE to the idea and discussing them in great detail –  In fact, rebates are extremely common. I would venture to say in new construction home purchases that buyers are given a commission rebate at least 25%-35% of the time. You may not have heard about this because agents who DON'T give a rebate don't want people to know this. Many agents give a 1% rebate. I am one of the only ones that gives 2% of the purchase price back to the buyer at closing. Find out more information about this excellent program.

I'll get better service from an agent who is paid more – Do you REALLY believe this? We get paid great money to do what we do. In fact, the job of a real estate buyers agent is cut by 50%-95% in a new construction home sale. The builder handles the contract, helps you get connected with their preferred lender, helps you pick upgrades and walks you through the construction process. Actually, there is barely a job for a buyers agent to do in a new construction home sale… This reality is the logical reason so many agents give a commission rebate to buyers of some kind. I can give you a better level of service than agents who don't give a rebate AND will give you a HUGE rebate of 2% of the purchase price as a rebate back at closing.
I don't need an agent – The builders site agents look out for their employers best interests, shouldn't someone be looking out for yours? This is extremely important, and even the builders realize this, which is the reason they pay for you to use one. Even if you don't want to use an agent, don't you want to save THOUSANDS on your home purchase? I'm an expert and have sold over 500 new construction homes in Northeast Florida. I have experience working with virtually every builder in the area and know every community in the area. I'm here to serve you and can do an even better job than others, and will put money in your pocket in the process. The good news is that even if you want to go about things on your own… You can use me as much or as little as you like in the process!

New construction home sales is what I do best – I know the neighborhoods, the builders, and the process better than anybody. I can give you top notch, unparalleled service AND will give you 2% of the sales price out of my commission as a rebate if you use me as your agent on the deal. You can use me as much or as little as you want in the process. Please give me a call at (904)635-8822 to discuss this program and how I may be able to serve you. I look forward to speaking to you soon!