Bartram Park Community Newsletter – May 2019

Bartram Park's First Annual Community Garage Sale- The first Bartram Park Community Wide Garage Sale is just around the corner – Saturday May 18th from 8-12. We now have approval from all 11 Bartram Park subdivisions except for Twinleaf, and we are expecting participation from 100-200 families! ***Residents who wish to participate and have their homes added to the map please RSVP right away! To do so visit www.BartramGarageSale.com, also, please visit and share the Facebook Event Page to help get the word out. 
Bartram Park La Nopalera Meet Up- MEET THE NEIGHBORS! Join your neighbors in Bartram Park Thursday, May 16th from 6-8 at La Nopalera for some good food, drinks and fellowship! My team and I will be there and are looking forward to meeting everyone in the community face to face. This is open to anyone and everyone in the Bartram Park area. Join us as we get together and get to know each other and just hang out. DON'T BE SHY! We will make sure you feel right at home! Click here for more info!
B.E.A.S.T Performance Health Awareness Event- Come out on Saturday May 4th to learn about eating the correct foods to improve your daily lives with Dietitian (Frances Siver). Get information about the benefits of utilizing Floating to for stress and anxiety relief with Indigo Float. The benefits and cost of meal prep with Superfit Foods. They will have a chiropractor doing posture screenings and talking points on corrective measurements for posture. Jump in on the 9am Bootcamp class FREE (limited Spots available – must reserve spot ahead of time) to reserve your spot for the Bootcamp class follow this link. Located in the Bartram Office Park at 13241 Bartram Park Blvd. Suite #2001, Jacksonville, FL 32258. Click here to view the flyer!
Hawthorne Food Truck Friday- May 3rd, 5:30 -7:30 PM in front of the Hawthorne neighborhood, Kaboom Kabobs will be there. All are welcome!
Panera Is Calling All Aspiring Bakers- Open to children 5-12 Panera Bread is throwing a Bakers-In-Training class. They can dress the part with a chef's hat and apron, decorate cookies, get a behind the scene tour and much more. To learn more and to register click this link.
5th Annual Bartram Springs Fun Day Festival- Saturday, May 11th. This is a huge community charity event that gathers some of the most influential businesses in our local area for a free, fun-filled day for all. Click here for details!

New School Coming To Our Area?- We have been updated on the recent SAC meeting and the possibility of a new K-8 school in our area. Due to feed back from the online surveys it was brought to the school boards attention exactly how far our closest middle school is to Bartram Springs, and the projected growth rate of our surrounding areas, resulted in amending the previous proposal of a k-5 school and now proposed k-8. To read more click here
Bartram Springs School Tours- Bartram Springs Elementary will be hosting school tours on May 16th. You can contact the main office to schedule a tour at (904) 260-5860
New Panera Under Construction- New construction underway for a new Panera Bread in between PDQ and Wells Fargo off of Old St. Augustine Rd. CLICK HERE FOR COUPONS TO SAVE AT PANERA!
AR Workshop Coming Soon-  AR Workshop is a boutique DIY studio that offers hands-on classes for creating custom home Decor from raw materials. Coming to Bartram Promenade in front of Bartram Springs opening late June. Learn more here.
Duck Donuts Coming Soon- Coming soon next to the Publix on Old St. Augustine Rd. Duck Donuts is a boutique donut shop that makes everything to order, showcasing unique flavors.
Thinking About Buying Or Selling A Home? – Prices are still steadily increasing in the area. Curious about what others are selling for? Check out recently "SOLD" listings here. If anyone is thinking about selling or buying in ANY subdivision in Bartram Park, please contact Mike Linkenauger at (904)635-8822 right away to take advantage of the market and remember, by using LinkUp Realty you will save 2% on any new construction home purchase! Go here to see what we can do  to sell your property faster AND for top dollar.

Shops Now Open at The Pavilion at Durbin Park! – Construction is underway for Bartram Market and the Pavilion at Durbin Park! Some stores that are now open in the Pavilion at Durbin Park are Walmart, Mattress Firm, Chase Bank, Home Depot and the Gate Gas Station. 
Stores Opening Soon- Opening very soon in the Pavilion at Durbin Park are Tropical Smoothie Cafe, and Burlington Coat Factory. Other stores here will be Sprint, Lee Nails, Kahzu Sushi Burrito, Chick Fil A, Five Guys Burgers and Fries, Firehouse Subs, AT&T, Starbucks, Korial Cleaners, Great Clips, Salsas Mexican, Keke's Cafe, Care Spot, and Baptist Heath, Petco, Ross, Five Below, and a Dollar Tree.
Pavilion at Durbin Park Plan: (click to view larger image)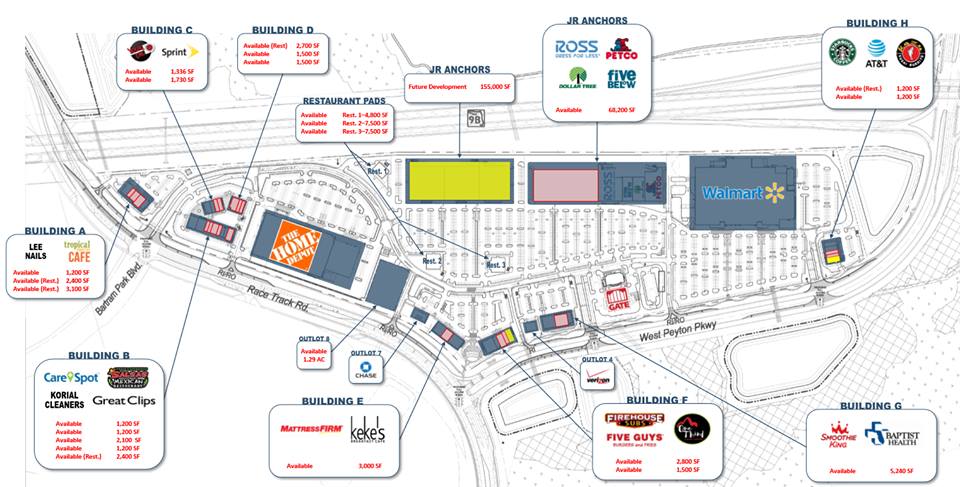 Phase 2- A second phase is coming which will include a BassPro shop, movie theater, three hotels, a Ferris Wheel and an 'event lawn' with a video wall. 
Stores Coming Soon to Bartram Market- Construction is underway for Bartram Market. Some stores coming are Publix, Dep Nail and Spa, L&L Cleaners, The UPS Store, China Wok, Fancy Sushi, and Forever Vets and Animal Hospital. A Wawa, Dunkin Donuts and Wendy's will be built as well. 
Bartram Market Plan: (click to view larger image)