2019 End Of January Newsletter

Bartram Park Community Newsletter – January 2019


4th Annual Fun4FirstCoastKids.com Summer Camp Festival and Kids Expo- March 31, 2019 from 12:00pm – 3pm! The event is located at the Above Athletic Center on US1 just north of Racetrack Road in the Five Tool Training state of the art sports training facility! We will have vendors in the categories of summer camps, schools, health resources, and birthday party businesses that you can meet face to face and and enjoy activities at each table. Register for camp, enjoy giveaways, and enjoy this FREE family fun event!

Help a Bartram Park family recover from a tragedy – As many of you know, the life of a resident in Greenbrier at Bartram Park abruptly and tragically ended last Wednesday.  Please prayerfully consider helping the Allen family recover from this tragedy – www.gofundme.com/uutg7-allen-family-fund
Legacy Ale Works Grand Opening- We've all been waiting! On February 16th, 2019 Legacy Aleworks will have its grand opening! Located at 14965 Old St. Augustine Rd., Ste 129, Jacksonville, FL 32258
Montevilla Model Homes Now Open- There is a new phase of model homes open in Montevilla at Bartram Park by Lennar homes. These new models feature 3 bedroom 2 bath floor plans! Contact Mike Linkenauger at (904)635-8822 for more information

Grand Opening In Wells Creek – Home sales will start on Saturday January 26th, 2019 from 11-4 PM! Many residents have expressed an interest in learning more about Wells Creek, the large new community coming just around the corner to Phillips Highway near 9B. Please sign up for our interest list on www.WellsCreek.com to find out more info as it becomes available. You can also save an additional 2% just for putting me as your agent! Make sure you let the builder know you're working with Mike Linkenauger with LinkUp Realty. 
Construction Is Taking Off! The land is cleared and the new construction is underway for Bartram Market and the Pavilion at Durbin Park! At the corner of Racetrack and Bartram Park Blvd the large strip mall for Bartram Market will include Publix, Dep Nail and Spa, L&L Cleaners, The UPS Store, China Wok, Fancy Sushi, and Forever Vets and Animal Hospital. A Wawa, Dunkin Donuts and Wendy's will be built as well. The Pavilion at Durbin Park construction is going on with a Walmart, Chase Bank and Gate Gas Station which are already open! Some other stores to mention are Home Depot, Petco, Ross, Five Below, Dollar Tree, and a Basspro shop. A second phase is coming which will include a movie theater, three hotels, a ferris wheel and an 'event lawn' with a video wall. Other stores here will be Sprint, Lee Nails, Tropical Smoothie Cafe, Kahzu Sushi Burrito, Chick Fil A, Five Guys Burgers and Fries, Firehouse Subs, AT&T, Starbucks, Korial Cleaners, Great Clips, Salsas Mexican, Keke's Cafe, Care Spot, Baptist Heath, Smoothie King, Mattress Firm, Verizon and more!!
Pavilion at Durbin Park Plan: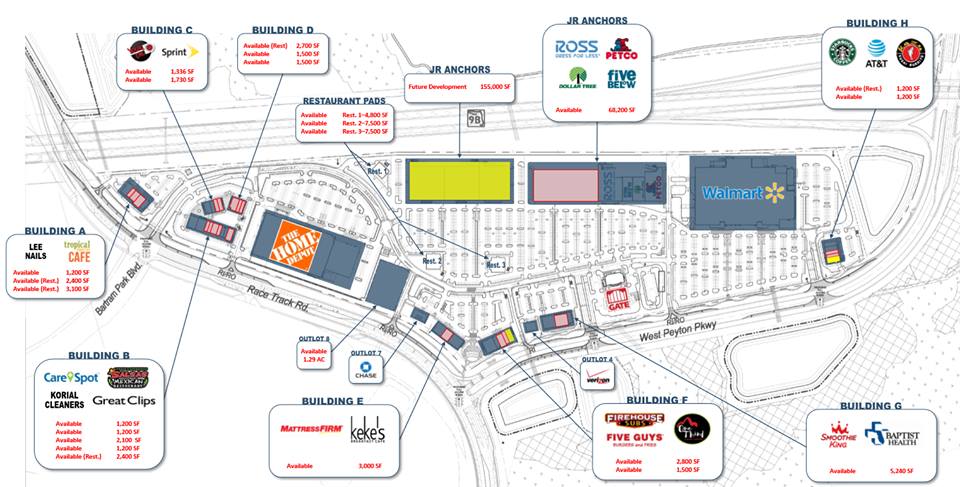 Bartram Market Plan:
Record High Sales Prices – Prices are skyrocketing lately in the community! Curious about what others are selling for? We have just added recently "SOLD" listings to www.BartramPark.com. This new page can be found as a drop down tab under "homes for sale", or click here. If anyone is thinking about selling or buying in ANY subdivision in Bartram Park, please contact Mike Linkenauger at (904)635-8822 right away to take advantage of the market. We have many buyers, we need sellers. My fees are less than 90% of the agents / brokers out there, and my marketing is more aggressive than 90% of them as well. Contact me today if you are interested in buying or selling.
***Also don't forget that buyers who use LinkUp Realty save 1% on any new home purchased in Bartram Park or ANY new home community. Call (904)635-8822 to discuss this exclusive promotion. You will unfortunately pay too much for your property if you don't use this program