Bartram Park Community Newsletter – August 2018
Bartram Park 4th Annual Fall Festival & Car Show- It's almost that time of the year again! November 3rd 10AM – 3 PM! This is our annual community event to benefit Toys for Tots and they are adding Dreams Come True Foundation. They will have food trucks, vendors, a DJ, raffles, games for the kids, a car show with prizes and several other surprises. It will be fun for the whole family and the best part is: they are helping 2 amazing charities! Anyone who would like to be a vendor or sponsor for this year's Bartram fall festival and car show should email
bartamcarshow@yahoo.com
Whits Frozen Custard – Coming to Bayard 12525 Philips Hwy, Suite #113 – The grand opening is on Friday August 10th & doors open at 11AM! Whits has superior frozen custard and they only use the highest quality ingredients.  From the fresh cream and pasteurized eggs to the premium chocolates, fruit toppings, and fresh roasted nuts, you will agree that it is the best frozen custard in town and we are so excited to have one right in our neighborhood!
Bartram Springs PTA is looking for sponsors! – The Bartram Springs Elementary PTA is looking for Business Partners to sponsor a variety of events during the 2018-2019 school year. We provide luncheons for the teachers, movie night for families, and we have a big spring event being planned, where businesses will be able to set up tents and meet our awesome students and their family! The PTA are also collecting donations to go towards putting shade and bleachers out on our track. Currently there is no shade, and very minimal seating. With many classes spending time outside and the events that we host outdoors at the school, we have decided this is our main focus for the 2018-2019 school year.
If you would like to partner with the school, please contact
Joni Stewart
904-798-0155
BSEPTAbusinesspartner@yahoo.com
Or
Wendy Perry
904-402-0023
BSEPTApresident@yahoo.com
Making waves in our Facebook Group – Much discussion has been taking place on the Bartram Park Community Facebook Discussion group about the traffic, accidents and speeding on Bartram Park Blvd. THANK YOU to our community for looking out for each other and informing your neighbors of news happening in our neighborhood. Let's keep it up!
***We are asking ALL residents to join our Facebook discussion group right away to keep up to date and be part of the community if you haven't done so already.  https://www.facebook.com/groups/bartrampark 
MANY New Shops & Restaurants Coming – There are MANY new shops that have been announced as coming to the area soon. Construction on the new large scale development, the Pavilion at Durbin Park, at the intersection of Racetrack Rd and Bartram Park Blvd is well underway. Anchor stores include – Walmart, Home Depot, Petco, Ross, Five Below, Dollar Tree, and a Basspro shop (2nd phase). Phase 2 is also slated to have a movie theater! Other stores here will include Sprint, Lee Nails, Tropical Smoothie Cafe, Kahzu Sushi Burrito, Five Guys Burgers and Fries, Firehouse Subs, AT&T, Starbucks, Korial Cleaners, Great Clips, Salsas Mexican, Keke's Cafe, Salsas Mexican Restaurant, Care Spot, Baptist Heath, Smoothie King, Mattress Firm, Gate Station, Chase Bank, Verizon and more. GO HERE TO VIEW A RUNNING LIST OF SHOPS COMING TO DURBIN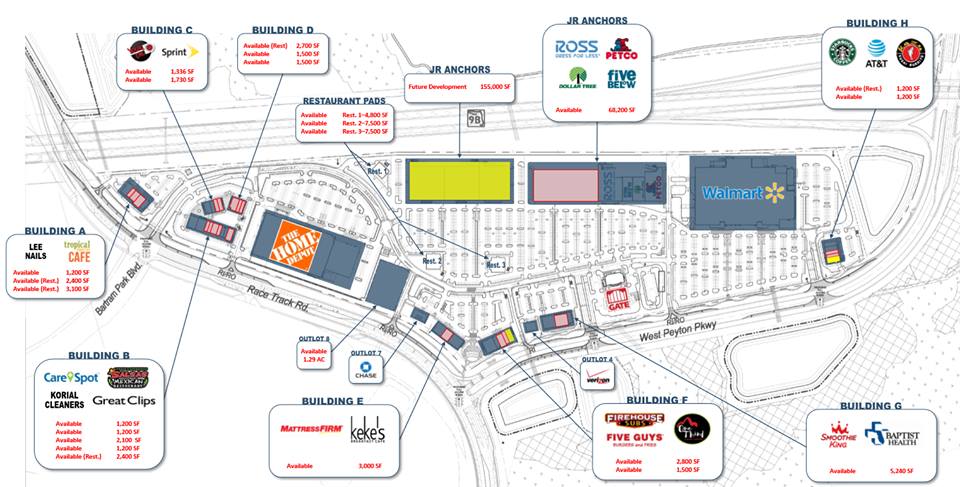 On the other side of Racetrack Rd, The plans were just released for the new large strip mall on Bartram Park Blvd right at the corner of Racetrack. Rumor has it, that the 43,000 SqFt grocery store will be another Publix. Plans were also announced for another gas station at this location as well, rumored to be another Gate Station.
A few new things included in the area are:
A movie theater (Phase 2)
Three hotels (Phase 2)
Three featured anchors (Phase 2)
A ferris wheel and merry-go-round (Phase 2)
An "event lawn" with a video wall (Phase 2)
Other rumors mentioned:
Chick-fil-A
Pollo Tropical
Sam's Club (shown in earlier rendering)
Pet Paradise will be opening soon. It's a $3.2 million building in the Bartram Park area, according to a recently filed building permit. The two-story 14,675-square-foot facility will be built by Jacksonville-based Sauer Inc. at 14076 Walden Springs Way at the corner of Philips Highway and Nocatee Parkway. The building will be built on two acres. Opens in late 2018
Legacy Ale Works Announces Plans For Bartram Area Brewery And Taproom-  Legacy Ale Works, LLC, a brewery in planning announced their plans to open a brewery and taproom in the Bartram Area. Legacy will have about 120 indoor seats and 20 outside seats and 12 to 16 taps, which will feature other local beers as well as their own. They are working with Roy Williams Architecture and Duckworth Construction for the buildout. A lease has been signed on 3300SF of space in the Shoppes at Durbin Creek Plaza located at 14965 Old St. Augustine Rd., Ste 129-130, Jacksonville, FL 32258, located on the corner of Old St. Augustine Rd and US1. Opens late 2018
Record High Sales Prices – Prices are skyrocketing lately in the community! Curious about what others are selling for? We have just added recently "SOLD" listings to www.BartramPark.com. This new page can be found as a drop down tab under "homes for sale", or click here. If anyone is thinking about selling or buying in ANY subdivision in Bartram Park, please contact Mike Linkenauger at (904)635-8822 right away to take advantage of the market. We have many buyers, we need sellers. My fees are less than 90% of the agents / brokers out there, and my marketing is more aggressive than 90% of them as well.
***Also don't forget that buyers who use LinkUp Realty save 1% on any new home purchased in Bartram Park. Call (904)635-8822 to discuss this exclusive promotion. You will unfortunately pay too much for your property if you don't use this program